The News

I don't know if today, January 22, 2009, should be considered a dark day or just one filled with dread and foreboding; it's certainly sent a chill through me that's for sure. I just got wind of a planned Tom and Jerry movie.

"Warner Bros. is turning to Tom and Jerry to create its own "Alvin and the Chipmunks"-like family franchise." They are going to have the film "live-action/animated combo". Why? Please tell me why? Call me a purist, but I would have liked them to at least attempt to make it traditionally animated. Oh and the idea of an origin story on how Tom and Jerry met doesn't sound like a good idea conceptually the cartoons sort of made it out that Tom and Jerry were always together and always at each others throats. I sincerely hope that they don't have them talking or singing like the first Tom and Jerry movie.

This news comes via CHUD.com and Variety

More news as it develops.


So I moved into my new home over the weekend and as such, my stuff is in shambles and disorganized. There is a lot of work to be done and internet is a bit sparse right now so I can't get to any emails frequently. I'm not ignoring, I just can't effective get to them right now. I should be back up and running in full gear in about a week....hopefully.


Greetings this 4th day of the New Year! Well, things have been really quite around Tom and Jerry Online these past few months. My excuse is that my life has been in a bit of upheaval since about July. Without going into too much personal detail, honestly you came here for Tom and Jerry not to hear about my life :-], my wife and I sold our condo, moved into rental property and now in the next few days moving into our house that we bought. All happening in the last 6 months on top of a job switch, so I've not been giving Tom and Jerry Online the attention it deserves. Hopefully, in February I can start getting into a regular routine again with this site and get more updates and news happening.

Speaking of February, Tom and Jerry Tales vol 6 gets released on the 3rd of Feb! Check it out:






Wishing Everyone a happy and prosperous new year!



Posted: December 24, 2008




MERRY CHRISTMAS TO ALL!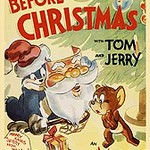 Posted: November 28, 2008


Greetings and salutations on this Black Friday, day after Thanksgiving.

I have an update for you fine Tom and Jerry fans of this world:

I have one new coloring page image! I've added 3 new images to the gallery! And on top of all that I have 2 new desktop wallpapers!



Posted: November 27, 2008




HAPPY THANKSGIVING!




Posted: November 16, 2008


It's cold outside this blustery November 16th evening. But through I bring good tidings: I have an update in the works. I'll be adding a few new pictures and wallpapers. YAY! They aren't ready yet to be posted, but I just wanted to give you guys a heads up about it.

Also, there is a new friend of Tom and Jerry Online named shorToons. It is a site that has gathered cartoons from youTube and put them all on one page. So instead of searching all of youTube for a particular cartoon, this site has big list displayed. Go over and check it out.